ONE YEAR EDUCATION PROJECT TO IMPROVE SLUM CHILDREN'S ACCESS TO HIGHER EDUCATION
Introduction
The Higher education project supported by Radio Cracker in the slums of Delhi has completed five months in July 2013. The project through its course not only achieved the quantifiable outcomes in relation to the objectives outlined in the proposal but also was able to create an environment of acceptance in the above mentioned communities towards education. Considering the sustainability of the project, it was not only the students, but also the families who were involved in the education project.
The biggest achievement of the project could be seen from the result of class XII national board Examination results. All the 15 children from the slum under this programme who were supported have passed.
Objective 1:
To provide materials and information that will support students during their final years of school and improve their chances of getting good results
Outcomes:
Sample paper books played a crucial role in the preparation of a student preparing for her/his final years of schooling (11th and 12th class). Based on the specific demands of the students, sample papers and guide books were distributed. This year sample paper books in subjects like Economics, History, Political Science, English, Accountancy, Physics, Chemistry, and Biology, were distributed to 15 students in different slum communities. After distribution of the sample papers, the staff conducted mock exams at the slum centres in order to monitor directly the usage of the sample paper books. The regular follow-up by the staff motivated the students to be serious in their studies and strive for high marks in the national Exams.
Apart from this, the students were also encouraged to use the slum centre for studying as it provided a quiet environment away from the hustle and bustle of the slum. Computers and newspaper facilities were also utilized by the students to complement their studies.
In June 2013, All 10 children who were studying in the final year of schooling got admission in regular courses in different colleges of Delhi University. This is quite commendable as more students are going for higher education and getting admission to the Delhi University colleges.
Objective 2:
To promote the value of higher education both to prospective students, their families and among wider slum communities
Outcomes:
The biggest challenge that Asha faces is to make the slum dwellers understand the importance of higher education as education is not put as priority and the parents sometimes force their children to work to supplement the family income. This happens mostly at the expense of the child's education. The Asha staff through the past 5 months has been working closely with the families of the student slum communities. Asha conducted 14 workshops on importance of education in each of its slum centers. The workshops also stressed on the long term benefits that education would provide the family in terms of income as well as social standing. The Asha women's groups as well as the children's group also were roped in spreading the awareness about education and with their support the dropout rate of the children from school decreased substantially.
Asha staff also organised weekly meeting with the final year school students to get a feedback regarding their progress as well as current status of their studies. These meetings were also used as forums for the students to share among themselves the challenges they face and study techniques that are used and as a result form a support group.
The community as a whole has been appreciating the efforts of Asha staff and the community volunteers. However there have been pockets of resistance where efforts of Asha have failed to convince families to return children to school. Asha sees these obstacles as challenges to be overcome in the coming year.
Objective 3:
To motivate students in their final year of school and provide them with all the information and guidance they need to choose a suitable career path.
Outcomes:
Asha staff held workshops with the students to impart information on different careers options available. One to one meetings were also held to discuss their future plan and to remove any kind of apprehensions concerning their careers. Educational trips were also organized to different colleges and institutes offering professional courses and orientation sessions were arranged with the faculty to remove any doubts the students may have.
Students who are already in the university from the slums are acting as mentors for the students doing their final two years of school. Today the students from the three slums are very clear as regard to their future course.
Objective 4:
To encourage an increased number of girls to pursue their final year of school thus enhancing prospective admission to tertiary education.
Special efforts were made to encourage girl's education. Out of the 10 students who had appeared for the final year school leaving exam in March 2013, 6 were girls. This is quite an achievement for Asha in the slum community which till very recently thought about girls in terms of household work and marriage only.
Conclusion
The efforts put in by Staff of Asha and the support received from Radio Cracker in last few months has brought about many positive changes in the lives of students, their families and the slum communities as a whole. Many more students are following the examples and are aiming for higher education. The community has started realizing the importance and value of education and this has given encouragement to Asha staff to go the extra mile in molding an educated generation from the slum communities.
Case Study of Senthil
Senthil wanted to become an accountant and he started working towards it from his childhood, in spite of all the hardships of living in a slum. Senthil lives his parents and four siblings in Jeewan Nagar slum colony. He has been associated with Asha since he was 5 years old. Senthil always stood first in his class and won many prizes in school.
Although Senthil's parents were supportive of their children's studies but were unable to support due to financial problems. His father is a labourer and his mother works as maid. Due to this Senthil's sister had to leave her studies to work as sales girl in a showroom.
Asha provided him with books and sample papers and supported and assisted him in many ways so that he could appear for his class X exams confidently. Senthil knew that in order to get into Delhi University he has to work hard. Senthil used to spend at least ten hours every day studying and led disciplined life. As a result of all his hard work he secured 89% in aggregate and 95% in Math and economics and was able to get admission into Venkateshwar College.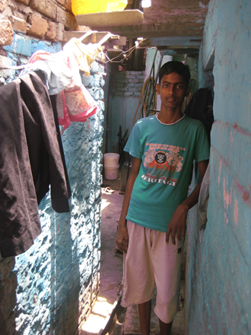 Senthil in the narrow lane outside his house
Case Study: Deependra
One of the first children from Anna Nagar to have secured admission to the degree course in Delhi University this year,19 year old Deependra came to Delhi with his mother and younger brother in 2002. With parents having separated at a very early stage, Deependra initially grew up at his maternal grandfather's place in Durgapur, West Bengal before coming to Delhi. "I initially hated to stay in this city. I had never grown up in such cramped temporary settlements with shared toilets. I was used to the comfortable lifestyle afforded by my grandparents back in Durgapur. But things were very different here. From the very first day I resolved to get out of here." Deependra was introduced to Asha in Standard X where he received assistance in the form of sample papers and tuition classes. The partnership with Asha continued in Standard XII all the way to the rigorous and competitive process of admission for the Hindi Honors in Aurobindo College. Both Deependra and his mother were initially skeptical about his pursuing a four year full time course in college since he wanted to start working in order to contribute to the four thousand rupee monthly income (£44) of his mother. However, he has now been convinced by the Asha staff to complete his education in order to have a more stable and secure life ahead. Slightly introverted but nonetheless confident boy, Deependra loves to flip through magazines and newspapers having grown up in his grandfather's book binding store.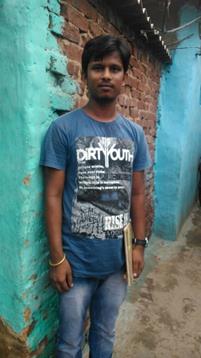 Story of Sevati
Sevati is a 16 year old girl from Dr. Ambedkar Basti slum community in South of Delhi. She has been associated with Asha right from class 6 through the children's group. Being from a Muslim family her prospects of studying beyond 10th class were bleak. Her parents were of the view that Sevati should get married as soon as she completes class 10. The Asha staff took special efforts to convince the family about the importance of higher education in the present world especially for a girl and took counseling sessions for both the parents as well as the child. Finally the parents allowed Sevati to continue studies after the 10th class.
In March 2013, Sevati completed her school education. To support her studies, Asha gave her reference guide books and sample papers. Her confidence level has really soared high, and she has no inhibitions in expressing herself. She has become very serious about her studies and has enrolled in college so that she could become a banker.
The story of Sevati is the story of hope and is an inspiration to many girls in her Muslim community to follow her example.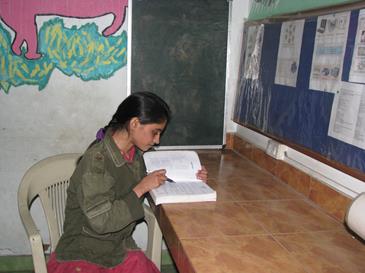 Sevati utilizing the Asha study room
Story of Jasbeer
Jasbeer is a 19 year old boy from Dr. Ambedkar Basti slum. His father is a tailor and his mother is a housewife. The family income is meager enough to make ends meet. When Jasbeer was in his finishing years of school, he was planning to join some vocational course and get into a small job, in order to augment the family income. He did not have any plan or inclination to do college. Asha field staff spoke to both Jasbeer and his family about the value of education. They were initially reluctant but after constant effort from the side of Asha, the parents allowed Jasbeer to continue studies after school. Today Jasbeer is in his first year in Bachelor of Arts in Motilal Nehru College of Delhi University. Jasbeer was able to enroll in college as he was supported by Asha with college fees.
Going to college has transformed Jasbeer's life. He has become more confident in facing life. He is now able to pursue his passion for learning the guitar in his college. Recently, he got a part time job which he can support his family as well fund for the extra tutorial classes.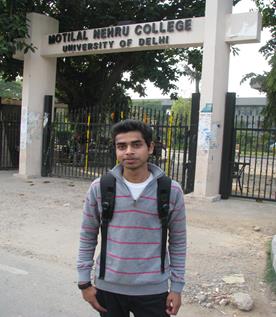 Jasbeer in front of his college
Story of Bindu
Bindu Kumari is the third child among five siblings. Her father, Mr. Vinod Kumar runs a small flower shop on road side and her mother is a house wife. The family of 7 live in a small one room house in the slum colony of Ekta Vihar. Today Bindu is in the first year of Bachelor of Arts in Hindi from Ramlal College of Delhi University. One year ago to think of studying in a college was just a dream for her.
When Asha staff approached Bindu in her final year of school, she was preparing herself for marriage in few months' time. Even though she expressed her desire to study further but was not able to voice it in front of her parents, being well aware of their resistance. When the staff from Asha approached the family they expressed their apprehensions regarding her travel arrangements to and fro from college, whether she will able to find a suitable boy once she is graduate etc. After much counseling of the family, Raviat was allowed attend college.
With the family's approval, the Asha staff immediately got down to assist Bindu in the admission process of the Delhi University colleges. Finally, after much follow up she got admission in Ramlal College and was supported by Asha for the fees.
Today Bindu is very happy to become first in the family to go to college. Her Family also is very proud about her achievement. Bindu is now helping Asha in spreading awareness about education especially among the girl children in her slum colony. Bindu is very grateful towards Asha and its staff for the pursuing the matter with her family and getting their consent and changing her life.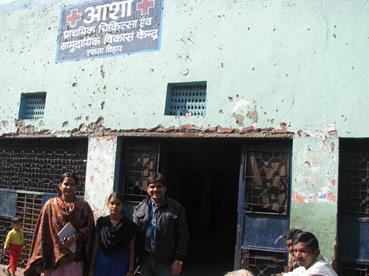 Bindu with the Asha staff outside the Asha Slum centre in Ekta Vihar slum