Hi, Welcome to Radio Cracker 107.6 FM
Radio Cracker is Ballymena's Only charity radio station
We've been broadcasting in Ballymena every Christmas since 1992, and we have raised over £1,800,000 thanks to our volunteers and you, our listeners and supporters.
We will be broadcasting 24 hours a day from Sunday 26th November until Saturday 23rd December 2023.
Radio Cracker Shop
What a blessing it's been to have premises in the Fairhill Centre that has allowed us to open the shop much earlier than usual and will allow more time for the studio setup.
The shop is open Monday to Saturday: 9.30am - 4.30pm
We have loads of goodies in our shop, including the alternative gift items.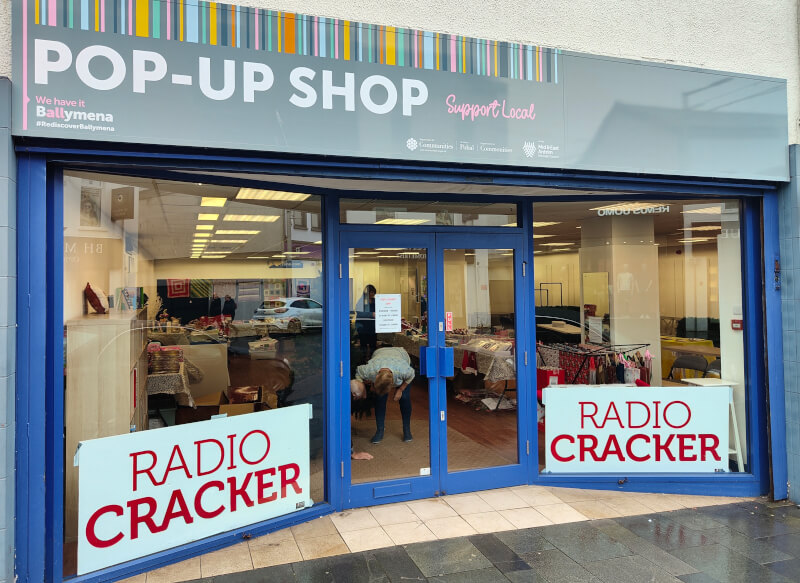 If you would like to become a Radio Cracker member and volunteer in our shop, please contact us!
We have a full schedule for our broadcast, complete with a wide variety of music programs hosted by our volunteer presenters, some veteran and some new to the scene! View the 2023 Radio Cracker program schedule.
Each weekday, a local school choir will be performing in the Fairhill centre and singing on the School Spot radio show. Details on school spots.
Guest speakers provide a Thought For The Day section each day. Thought for the Day section.
The money raised over the last 30+ years have improved the life and wellbeing for thousands of people by the projects we have supported. Read about how we have helped.
£1,800,000+
Raised for Charity Projects
10,000+
Hours on FM Radio
200+
Worldwide projects supported
Upcoming Events
Carol Service
Sunday 17th December 8.15pm at First Ballymena Church
with music by Cambridge House Grammar School
Radio Cracker Facebook
2023 Supported Projects
Supported projects for 2023 are:
Samaritan's Purse: for biosand water filters in Cambodia
Fields of Life: for a borehole in a village in Northern Uganda
Mulyata: Solar panels for a children's mission in Zambia
Smiles Foundation: RCB will sponsor a medical treatment room in Romania
Care for Cambodia: Classroom equipment
Spud Bear: Mattresses for 200 children in a home in Uganda
B.R.E.A.D: 15 water tanks for homes in Kenya