Grant from Radio Cracker for building Shallow Wells in Malawi
Why Shallow Wells?
Many of the underlying health problems throughout the world are water-related. This is especially true in rural areas of Malawi where dysentery, cholera, malaria, and typhoid are often the result of lack of access to safe drinking water. Many villages in Malawi still depend on surface water collected from open ponds and water holes. This water not only carries disease but also can be polluted from farming chemicals and run off from animal tending.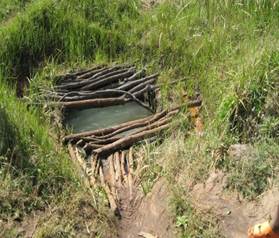 A typical water hole before the construction of a shallow well
When there is no well in a village, young women can spend up to half their day fetching and carrying water from several miles away to meet their household needs. This often means they are unable to attend school and get an education. The creation of shallow wells can not only make a major change in the health of an area, but has a life changing impact on the people in the area, freeing up young women to access school and education.
The project funded by support from Radio Cracker is taking place around the Livingstonia catchment area in northern Malawi with a population of over 90,000 people. Currently, only 30% of this population have access to safe and clean water. In 2011 the area was badly affected by an outbreak of Cholera causing 8 deaths and over 20 hospitalisations at David Gordon Memorial Hospital and the Luwuchi health centre, making this water project a high priority for the people living in the area.
One shallow well can provide safe drinking water for up to 400 people.
As a result of Radio Cracker's support, 36 new shallow wells will be completed in the next two months (the well digging season is from June to November to take best advantage of the weather and water table levels). This project will ensure clean safe drinking water for over 14,000 people.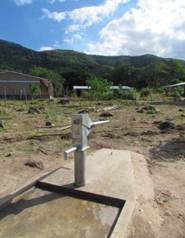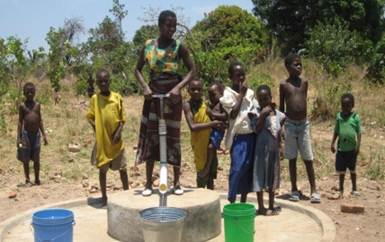 "We are very happy to have safe and clean water. We were experiencing a lot of diarrheal cases during the rainy season and spent a lot of money for treatment at the hospital"- Grace Ndovi (Local resident of a village with a recently installed well)
How the money is spent
Each well costs c. £208.00 each – there is slight variation for each well according to transport costs and local labour costs (36 wells – total £7500.00)
Costs include:
Site identification –

survey of water quality and viability assessment of each well

Labour for excavation of the wells –

local labour used whenever possible providing employment to the area

Cement and pump costs –

local materials are used whenever possible

Training of the local communities' water and hygiene committees –

on pump use and maintenance
EMMS International is grateful for the support of Radio Cracker's listeners. Without their generosity, this project would not have happened.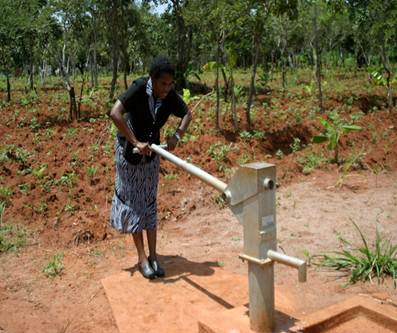 Testing a new pump